If you're starting to feel like your home needs an update or a refresh or maybe you just need some new ideas- we've got you covered. 
1. ADD A FRESH COAT OF PAINT!
A simple way to learn to love your home again is adding a fresh coat of paint. You can give your walls a pop of colour, paint a new feature wall or even paint the ceiling if you'd like! Painting is such a simple way to breathe life into a space and make it feel new and exciting- without a giant price tag!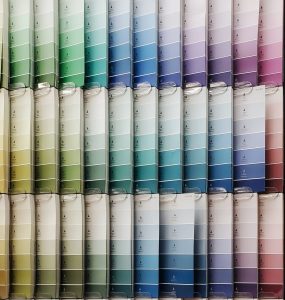 2. REFRESH YOUR CABINETS!
Give them a fresh coat of paint, replace the hardware or both! You'd be surprised how much of an impact can be made by simply adding new cabinet hardware. If you're feeling a little more adventurous, there are plenty of creative DIY cabinet projects out there that can transform your entire kitchen!  
3. DECLUTTER AND DO A DEEP CLEAN
Spring is coming and that means it's the perfect time to clean and declutter! Get rid of items that you don't use or store away items that you only use sometimes. Even if your home is typically very clean and tidy, there are always going to be spaces or areas that don't get cleaned as often or as deeply as they might need. Once you're done decluttering, try deep cleaning your mattresses, blinds, shower curtains, underneath appliances, baseboards and railings!
4. ADD MORE STORAGE!
Now that we've talked about decluttering and deep cleaning, it's important to note that having enough storage is the key to keeping your home neat and organized. It's amazing how adding some storage can make your home feel new and refreshed! Invest in some storage cabinets, baskets or extra shelving and label wherever possible! Once everything has a place, both you and your home will feel more organized, and it will be much easier to keep it that way. 
5. ADD AN OUTDOOR SPACE!
Creating an outdoor oasis is a great way to make you fall in love with your home again! Bringing the indoors outside will make your home feel more comfortable and enjoyable. If the outdoors can act as an extension of your home, it will add to the square footage and make it much easier to entertain friends and family!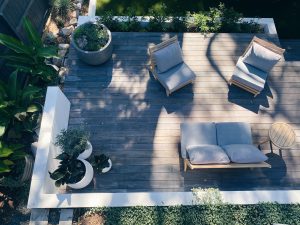 6. THRIFT SOME NEW FURNITURE!
Thrifting new pieces will help freshen up your home without the price tag! And an added bonus- it's fun!! Maybe you'll find the perfect vintage piece that's been missing from your space, or maybe you'll have the opportunity to upcycle some older furniture and give it new life! If you're looking for some vintage or antique stores in our city, be sure to check out the list below! 
7. REARRANGE YOUR FURNITURE!
Sometimes all you need to do to fall in love with your home again is to rearrange a room! This can help to improve the functionality of a room or just make it feel new and exciting. And it's absolutely free! 
---
Information referenced from:
https://www.hgtv.ca/simple-ways-to-fall-in-love-with-your-home-again-in-2021/  
https://www.hgtv.ca/canadian-vintage-and-antique-shops/
Source: 7 Tips to Help you Fall in Love with your Home Again by Bailey DeRudder